Crafting Women's Image With Distinction & Sophistication | Angie Reyn
Meet Angie Reyn, with over 8 years of experience in Fashion Styling and Marketing Expertise with a BA (Hon) in International Business Communication in Preston (United  Kingdom), and International Relations and Trade Master.  She is a Dominican Born, raised in Spain.
Angie's sense of style is impressive and versatile, combining street sophistication with vintage flair to create a stunning look of elegance. She is a passionate image-maker, able to create a unique style for each of her clients thanks to a keenly skilled eye and ability to turn the ordinary into the extraordinary. Three words that represents Angie Reyn:
"Unique, with attitude, and fabulous," Angie Reyn
Her inspiration comes from seeing how fashion trends evolves around her.  She uses the past as a major reference in her work. Her expertise is valued and sought after by various media outlets and private clients. Angie's styling talent has led her add several impressive credits to her extensive experience record in fashion editing, styling for advertising and commercials, styling for retail and e-commerce, brand building, trend analysis, and fashion direction. She is fortunate to live between two countries: New York and Spain, which enables her to learn and style women of two exquisite cultures! She is a frequently quoted style expert for magazines such as Cool Korea, Yo Gallery Magazine, Vogue.it, and Solis Magazine and has been a media spokesperson on fashion and style for TV show De Extremo a Extremo, and Escándalo del 13, and The Hub.
She has helped craft the image of several artist and celebrities including Aranzazu Santos for editorials, ad campaigns for fashion and beauty brands, and as private clients for The Miss Tropical Europe Awards, and for personal and on-air wardrobes.
As an Image Expert she normally focuses in enhancing the looks of today's women, reason that had driven her to launch her blog: Angienewlook.com Crafting women's image with distinction and sophistication.
She has also contributed with her styling and marketing expertise for LENY (Latinas en New York). Wardrobe coordinator Leading Latinas 2017 is her latest contribution.
She also provided advice on their personal branding, analyzing their style, and developing the best strategy for them, depending on their life style and personality, using three tools: Morphological analysis, Color test, and Personal Style and Trends. Her expertise includes creating dynamic images for brands as diverse as Marcos Souza Couture, Arquímedes Llorens and Kralova Design.
Her latest work has been as a Wardrobe designer for the movie Jenni the Film, directed by Ray Hungria, in the mean time she is working on new projects such as her online store angiereyn.com and new collaborations in USA.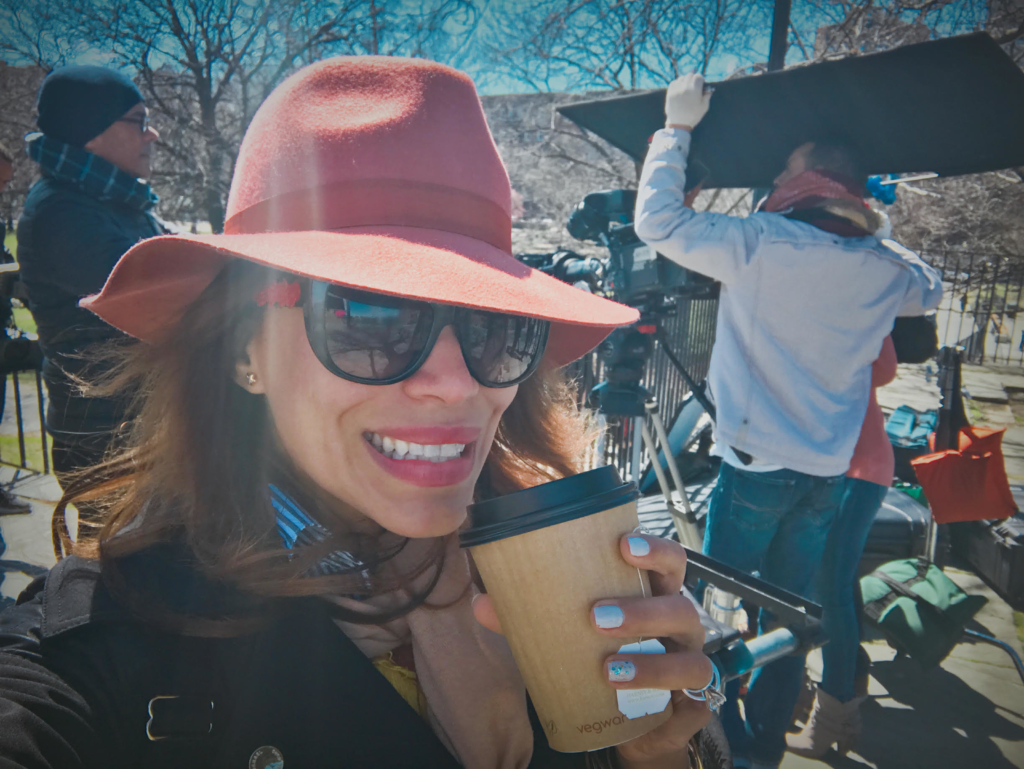 To connect with Angie Reyn: @Angienewlook angienewlook.com
Thanks to Our sponsors & supporters:
Hair by: Andrea Vasquez | Instagram: @Fabhairex  
This slideshow requires JavaScript.